Sokorra's Art and Photography
---
This is where I will put together a gallery of some of my artwork and photography from over the years. Some of the photos are not taken by me, but rather I worked on them (such as the one of my grandmother). Most however are mine and all of them are my property so none of the following is using stock imagery from another photographer. I did however use several programs for the non-photography art. Photoshop, JASC Paint Pro 7, and Windows Media Player are my usual tools of the trade. Also the traditional pencil and paper. And a scanner.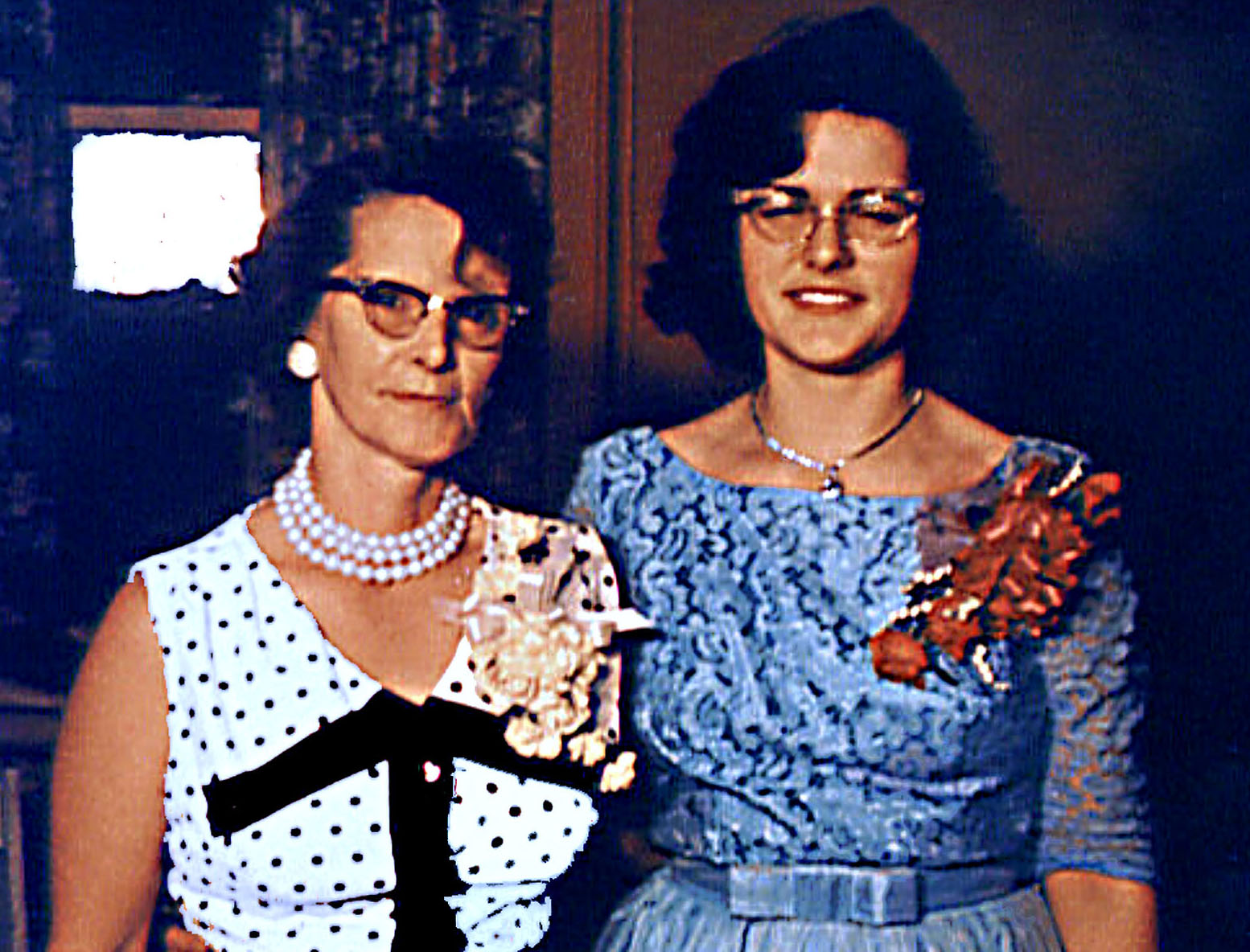 The picture above was taken in 1961, at the wedding of my grandmother Kate (the women in the blue dress) and grandfather. The woman with her is my great-grandmother Helen. I did a few corrections to the photo to adjust the color and clearness of the photo but I still feel it needs some work. Below is the original photo.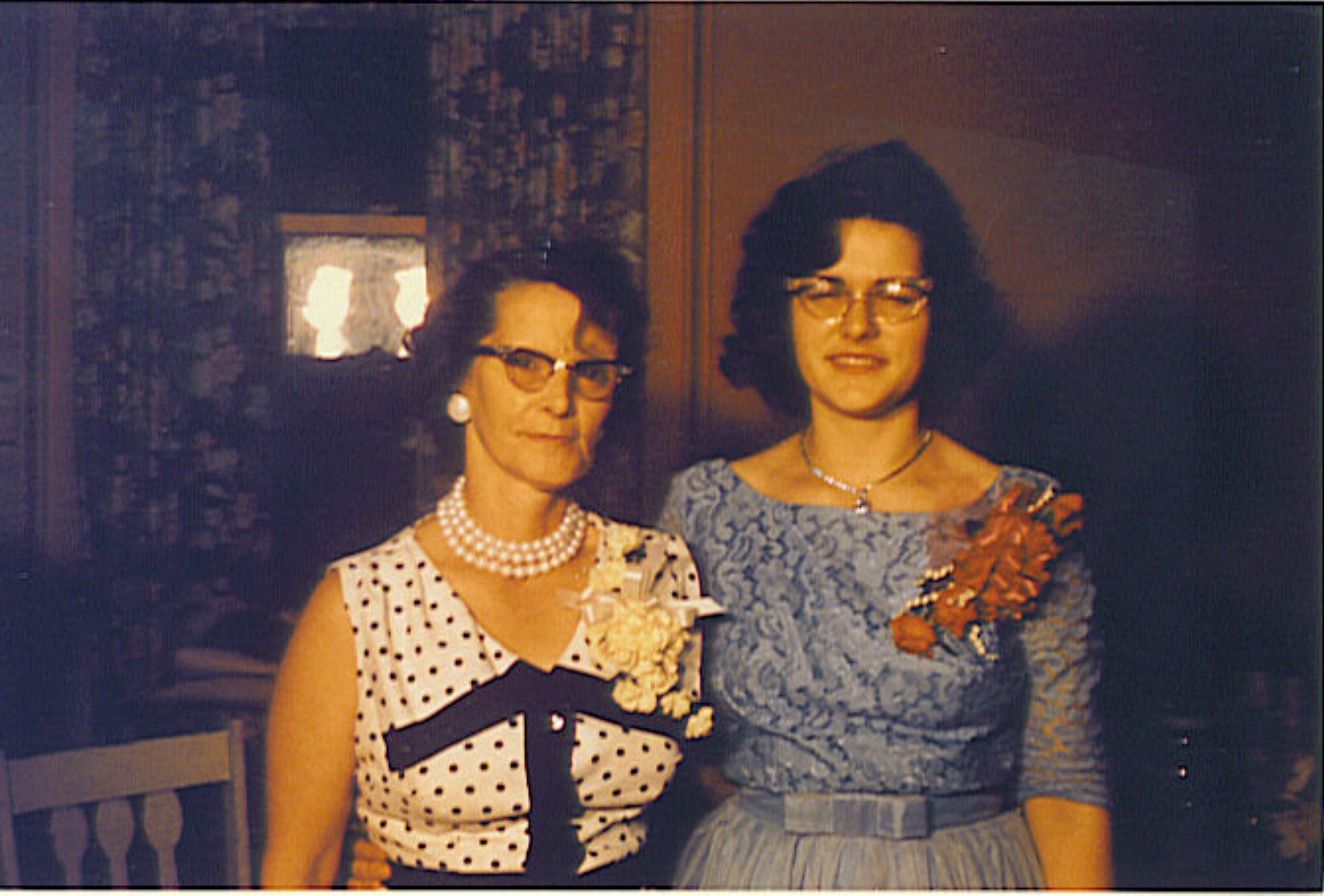 ---
This is a photograph I took at a local chinese resteraunt which had a small pond garden. I took this by laying the camera on one of the rocks along the border of the pond. I turned it in for a grade and got a B+ for it (my presentation was not as good as the print). It is one my favorites and everyone seems to like it so far.. I intend to submit this photo to my schools literary and art journal this year when they start asking for submissions. Hopefully it will be one of the ones entered in journal (Facets)in the spring. *crosses fingers*

I used black and white film and printed this photography myself in the dark room. This particular file is a scan of the actual print.
---
This is a drawing I made in drawing class my second semester in College. It is a remake of another drawing (of which I can not remember the title of). I am really happy with this drawing for the most part and I found it surprising that I actually finished it. This is only a small portion of the drawing (it wouldn't fit on my scanner).

I drew it using newspaper print paper, pencil and charcoal pencil.
---
| | |
| --- | --- |
| | This is a photomanipulation of my friend Jackie. I took her picture one day as we were leaving school (it was the last day of school) about 1999. The background photo is of the Brooklyn Bridge in New York City which I took in September 2004 while visiting to see The Boy From Oz on Broadway. I used Adobe Photoshop to blend the two pictures together. Jackie gave her permisson to upload this online. |
---
| | |
| --- | --- |
| This is another favorite of my friends and family. I took this from the same type of film as the waterfall, only this is indoors. Its of my sink in the bathroom and as you can tell, we have alot of junk. Correction, most of that is my mom and sister's junk. I sat the camera down on the sink (you can see some of it on the bottom), turned the exposure to high and clicked! I called it The Town of Bath because it reminded me of a city in how the different bottles almost looked like different towers in a city due to the heights. I had a corrseponding picture of my bathroom lights called The Lights of Bathtown and you can veiw it at my DeviantArt page. | |
---
I did this as a school project. I was asked to redesign a cover of a book I had read. The book I choose was "The Photograph" by Virgina Ellis. This was one of the covers I made (we were asked to do two). It may be slightly too dark though and I kinda wish I had a better picture to use for the background image. This was done using filters and merging pictures together on Adobe Photoshop. It's not the final version either. I shall upload that when I am completed with editing it. I found out I really like the color pencil effect that I used on the foreground picture. I also used some burning which is why the front is so dark. It looked alot lighter on my home computer then on others.

Click here for a full size version of the first one

The second one is another version of that cover, only this is the one I turned it. Alot lighter in my opinon.

Click here for a full size version of the second one
In the future I will show more of my artwork and photography but for now, if you wish to see more examples of my art, please visit my Deviantart account and don't forget to comment there!. Comments are like chocolate! Plus they will help me improve in the future.
---